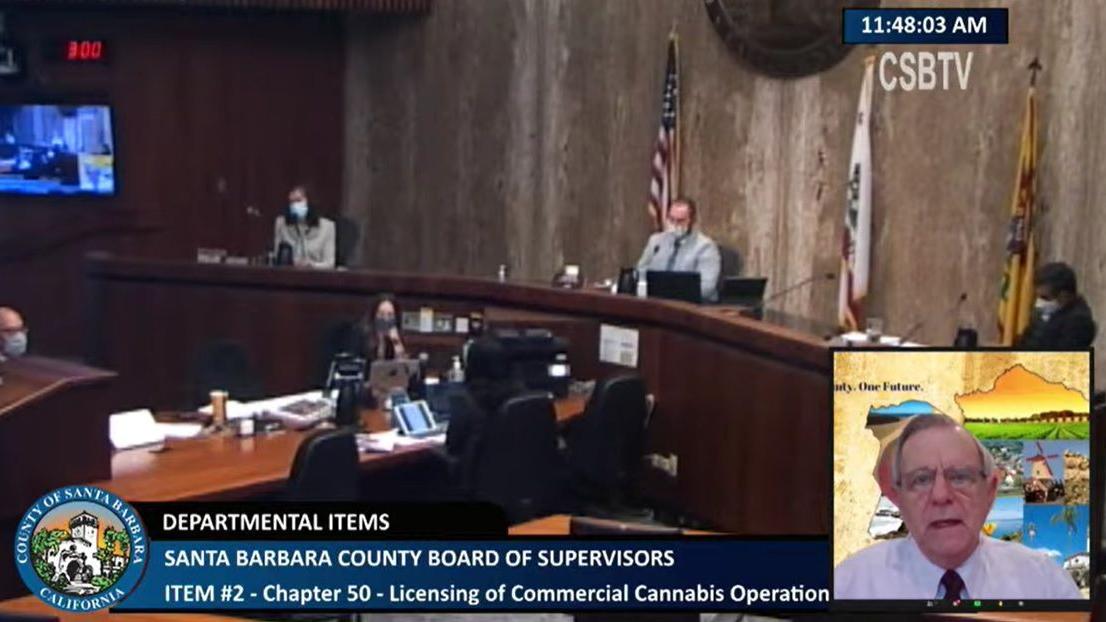 In this screenshot from a CSBTV livestream, Barney Melekian, assistant district director, explains to regulators at Tuesday's meeting changes to the Chapter 50 cannabis business license ordinance. Managers shown are Joan Hartmann, Bob Nelson and Das Williams, from left .
Contributed photo


Changes to the Cannabis Business Licensing Ordinance were unanimously approved by the Santa Barbara County Regulatory Authority on Tuesday to improve the efficiency and speed of application processing.
Regulators were generally satisfied with the changes proposed by the county's planning and development department and recommended by the planning committee.
However, they also asked employees for information about how a change of ownership could affect a company's place in relation to the county's acreage.
Once approved projects meet the county cap, projects pending approval cannot receive land use permits and business licenses.
One of the changes to the Business Licensing Ordinance under Chapter 50 raised the threshold for a change of ownership in order to trigger the need for a new license application from 10% to 20%.
District 4 chairman and supervisor Bob Nelson asked how this would affect an applicant's place in line.
Barney Melekian, deputy county executive officer, said if the cap had not been reached, an applicant would not have to go back to the end of the line when ownership changes.
However, the license application would be put on hold so others could put this operator in line while their license applications continued to be processed.
Melekian wasn't sure how this would affect an applicant after the cap was reached.
"I would encourage anyone going through the business licensing process not to change ownership," he said.